Eternal Well
Cordyceps Formula
Adaptogenic, Tonic, and Restorative*
Clinical Grade Concentrated 10:1 Extracts
This adaptogenic, tonic and restorative formula highlights builds upon and enhances the time-honored tonic and adaptogenic benefits of Cordyceps (Cordyceps sinensis). To elevate this revered tonic medicinal, we have formulated it with:
Prepared He Shou Wu (Fallopia multiflora);
The result is a potentiated Cordyceps. A better Cordyceps.
From the Package
From our Forest Formulations collection, our Eternal Well Cordyceps Formula is a modern interpretation designed to highlight and enhance the benefits of Cordyceps.—to elevate Cordyceps.* Eternal Well contains clinical grade extracts of adaptogenic, tonic, and restorative herbs, balanced in a proprietary formula: Cordyceps, American Ginseng, Astragalus Root, Dang Shen, He Shou Wu, and Rehmannia.*
A Quick Introduction to Cordyceps
Cordyceps is one of the most popular tonics and restoratives, with a written use dating back nearly 1500 years. In times past, Cordyceps was reserved—because of its then extreme rarity—for use by the royals, by emperors, and their families and other elites. It is only in recent memory that the cultivated of Cordyceps has become possible, making its benefits widely available.
Today, Cordyceps remains one of the most powerful tonics available, ranking high up on the list with wild Ren Shen (Chinese Ginseng), Lu Rong (Silka Deer Antler Velvet), and Ling Zhi (Reishi, Ganoderma lucidum).
At RAW Forest Foods, we love Cordyceps because we find it to be deeply rejuvenating without adding heat or stimulation, for enhancing athletic ability and performance (as shown in the research literature), and for its balancing, adaptogenic effects upon the endocrine system.*
Each Serving Contains
American Ginseng Extract (10:1 concentration) (300 milligrams);
Cordyceps Extract (10:1 concentration) (300 milligrams);
Prepared He Shou Wu Extract (10:1 concentration) (300 milligrams);
Prepared Rehmannia Extract (10:1 concentration) (300 milligrams);
Astragalus Root Extract (10:1 concentration) (150 milligrams);
Dang Shen (Codonopsis) (10:1 concentration) Extract (150 milligrams).
Product Highlights
Professionally formulated to increase the benefits of Cordyceps;
Made with clinical grade, certified organic powdered extracts;
Adaptogenic and restorative;
Clinic grade extracts, fully prepared and ready to use;
Domestically packaged in an FDA cGMP, certified organic facility;
A proprietary formula by RAW Forest Foods, the leaders in tonic, adaptogenic, and pro-androgenic herbs.
View our Eternal Well Cordyceps Formula quick facts PDF.
An Overview of Cordyceps
Throughout its long use, continuing—and garnering even more momentum—through today, Cordyceps has been renown as an anti-aging, restorative, and renewing tonic, which includes building/strengthening sexual and physical vigor, mental clarity, and to modulate (improve) the immune system.* Cordyceps helps strengthens Jing and is a top-level Jing tonic.
Within Chinese Medicine (TCM and Classical), Cordyceps have been used as a master tonic and panacea reserved for use by the Royalty because of the historical rarity of the fungi. The first written documentation of the medicinal uses of Cordyceps dates back to 620 CE. In this first documentation, Cordyceps is written about as allegory, where the mysticism of the fungi is seen through its transformative properties: moving from animal to plant and back to animal. Cordyceps is considered to be a transformational herb (an opinion we agree with at RAW Forest Foods).
Today, Cordyceps shares its importance both to its use within alternative medicine and within Western scientific research (which has tended to focus on its ability to promote athleticism).
Classical and Traditional Chinese Medicine
Cordyceps is used to:
Tonify Kidney Yang;
Nourish Kidney Essence (Jing)—Cordyceps considered to be a Jing (both Yin and Yang) tonic of the highest degree;
Tonify Lung Qi.
Western Medical and Scientific Research
Cordyceps has been researched for:
Athletic enhancement properties (increased aerobic ability, increased VO2 max, increased lactic acid threshold);
Adaptogenic and tonic properties (decreased fatigue, decreased stress)
Increased immune system properties;
Increasing testosterone levels.*
Intended Uses
Our Eternal Well Cordyceps Formula can be found in our following product guides:
The Importance of Formulas
In all traditions of Chinese Medicine, herbs are never taken alone. Formulas are created around a particular herb or around an intended action. In this long tradition, we have created a proprietary formula around premiere, organically grown Cordyceps (Cordyceps sinensis) extract, highlighting and building upon everything we love and are drawn towards in Cordyceps—in short, taking Cordyceps and turning the volume up to eleven.
The result is our Eternal Well Cordyceps Formula. A transformational formula steeped to renew through its deeply adaptogenic and restorative actions.*
The Herbs of the Eternal Well Cordyceps Formula
Cordyceps (Cordyceps sinensis) Extract:
To strengthen Jing and restore sexual/reproductive and physical/athletic strength.* Cordyceps has been used historically to renew the body and to build youthful, sexual vigor. Today, research into Cordyceps cements its positioning as a top-level Qi and Jing tonic, one that is specifically suited for those suffering the effects of over-stimulation, loss of vitality, and premature aging due to overwork, exhausting, and athletic overtraining.*
American Ginseng (Panax quinquefolius) Extract:
One of the top-level tonic herbs, with important distinctions from its sibling Chinese (Panax) ginseng, American Ginseng in a restorative adaptogenic and Qi tonic that is cooling in nature (making it extremely important for cases of overwork and burnout) and it replenishes Yin fluids. While many in today's 24/7 culture reach for stimulants, American Ginseng offers unique cooling, non-stimulatory restorative functions (please see our Elephant Mountain Ginseng Formula if you are looking specifically for a restorative adaptogenic formula).*
Astragalus Root (Astragalus membranaceus) Extract:
Astragalus is a top-level, premier Qi tonic that is celebrated for its modulating actions upon the immune system (regulation, not merely stimulation).* As a tonic, Astragalus is thought to build energy, to warm the body, and to enhance metabolism, respiration, and elimination.* Additionally, it is used athletically (as is Cordyceps and American Ginseng) to promote strength and muscle development.*

Dang Shen (Radix Codonopsis) Extract:
Adaptogenic and restorative, Codonopsis contains similar compounds as American and Chinese Ginseng, although similar American Ginseng, Codonopsis (Dang Shen) is cooling in nature and is easier for the body to assimilate then Chinese Ginseng (which can actually consume Qi because of its difficulty to assimilate). Codonopsis tonifies Spleen Qi and Lung Qi, which allows the body to better utilize the other herbs in this formula.
Prepared He Shou Wu (Fallopia multiflora) Extract:
Possibly best known for its reputation to store gray hair to its original color and vigor, He Shou Wu is one of the primary Jing tonics, due in part to the plant's ability to accumulate and concentrate Qi in its roots. The herb is seen as non-stimulatory, yet to enhance energy over time. He Shou Wu is used to strengthening the knees and lower back, the restore youthful sexual drive and function (both in women and men).* He Shou Wu contains antioxidants, supports liver and kidney function (thus detoxification and blood cleansing), and to increase SOD levels.* He Shou Wu contains high levels of bio-available zinc, an important mineral for male reproductive health.
Prepared Rehmannia (Rehmannia glutinosa) Extract:
To understand the importance of Rehmannia, it is important to understand the relationship between Yin and Yang in the body, where Yin is our reserve and our protective ability, and Yang is the burning of the Yin for energy. Rehmannia root promotes Yin and body fluids (which are Yin in nature), and the herb clears heat. Over time, overwork and stimulation leads to a burning off of the Yin and the fluids of the body, creating heat (inflammation) and weakening the body and its ability to stave off stress and disease (the latency of the body).*
What You'll Find Inside
Every package of our Eternal Well Cordyceps Formula contains 65 grams of prepared, clinical grade extracts of certified organic Cordyceps (Cordyceps sinensis), American Ginseng (Panax quinquefolius), Astragalus Root (Astragalus membranaceus), Dang Shen (Radix Codonopsis), Prepared He Shou Wu (Fallopia multiflora), and Prepared Rehmannia (Rehmannia glutinosa).
Each package contains the outer, resealable opaque outer pouch to help protect the contents from UV degradation, and an inner resealable pouch to promote freshness and usability. All packaging is food-grade and done domestically.
Eternal Well Elevated Cordyceps
Suggested Usage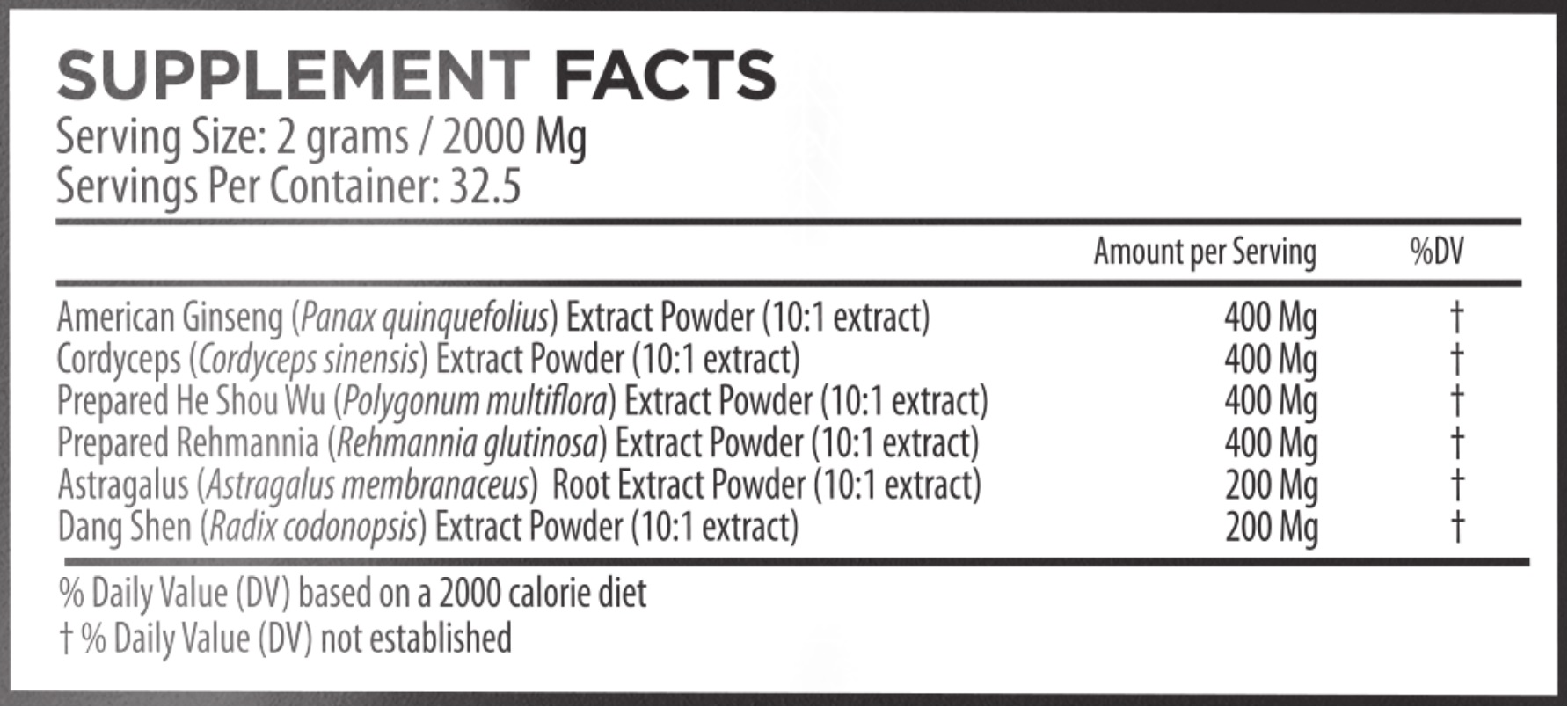 Serving size is 2 grams, taken twice daily or as directed, preferably on an empty stomach. Once in the morning and once in the evening.
Other Ingredients: None.
In each 65 gram pouch, there are approximately 32.5 servings of Eternal Well Elevated Cordyceps.
Extracted at a 10:1 concentration, each serving of powder contains an equivalent of 20 grams of fresh, raw herbs.
At RAW Forest Foods, we like to take our powdered extracts in 4-6 ounces of warm water, and consumed on an empty stomach.
This product is vegan/vegetarian.
Learn more about using all of our products here.
Ideal Storage
Store this product, and all RAW Forest Foods products, in a cool, dry place, away from sunlight and moisture. Try and use in a timely manner after opening the package.
Cycling Herbs
For those customers who prefer to rotate their pro-androgenic and tonic herbs, we suggest a schedule of five days on and two days off, or four weeks on and one week off.
Disclosures
Before starting any new medicinal herbs or nutritional supplements (from our company or otherwise), customers should consult with their qualified healthcare practitioner. This not because we question the safety of our products, but because we believe in the strength of our products and that plants have a medicinal, therapeutic potential.
This product is not for use by those under the age of 18, who are pregnant or nursing, or who are allergic or adverse to any of the ingredients contained within.
* These statements have not been evaluated by the Food and Drug Administration. This product is not intended to diagnose, treat, cure, or prevent any disease. Please view our full Terms and Conditions.
Availability:
Free domestic (US) shipping on orders of $50 or more.
The first time I used it was in my chaga tea before going to bed, and I actually felt the effect - similar to that of the Brassica Pollen. Haven't felt it like that again, but because of the experience, know it's beneficial.