Divine Farmer Green Tea Camellia sinensis Pollen
RAW Camellia sinensis Pollen
Anti-oxidant, anti-inflammatory, & Deeply Nutritive
Ethically Harvested RAW Bee Pollen
Camellia Sinensis Pollen—also known as Tea or Green Tea Pollen—is a deeply restorative superfood, containing dense bio-active growth hormones, specific amino acids to aid anti-aging, and adaptogenic (adaptogen) compounds to help regulate and improve endocrine function without adding additional phytohormones (androgens) to your system.*
Our Divine Farmer RAW Camellia sinensis Pollen is completely RAW, is collected from ecological cultivated green tea (Camellia sinensis) fields, and is minimally processed to crack the cell wall of the pollen to promote complete digestion.
This product is part of our line of superfood RAW Pollens.
View our RAW Camellia sinensis Pollen quick facts PDF.
From the Package
Part of our RAW Pollen line, Divine Farmer Camellia sinensis Pollen is crafted with ecologically grown and ethically harvested green tea (Camellia sinensis) plants and pollen. Divine Farmer Camellia Pollen is lightly processed to increase digestibility while retaining its living, RAW integrity.* As a dense and potent RAW pollen, Camellia sinensis Pollen restores at a fundamental level for vibrant wellness.*
Brief Overview
RAW Pollens, including this RAW Camellia sinensis Pollen, are some of our most favorite foods. That is because there is really no other food that is so nutrient dense, has so many micro-nutrients and phytonutrients, as these Pollens. Like all RAW Pollens, our Camellia Pollen is full of raw amino acids and living enzymes, vitamins, protein, minerals, essential fatty acids, and a whole host of other macro and micro-nutrients and phytonutrients. Additionally, highly accessible forms of the many beneficial compounds found in green tea (the leaves of the Camellia sinensis) plant are present in our RAW Camellia sinensis Pollen. The healing compounds of green tea include a class of polyphenols called catechins. The major catechins found in Camellia sinensis include catechin, gallaogatechin, epicatechin, epigallocatechin, epicatechin gallate, and epigallocatechin gallate (also known as EGCG).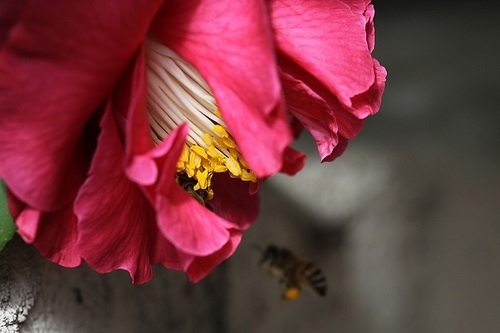 Our RAW Camellia sinensis Pollen is an ethically harvested bee pollen that is strictly collected from organic or ecologically grown Camellia sinensis tea plantations. This pollen is collected and then processed using the same low temperature forced air pulverization as our other RAW Pollens (including our RAW Pine Pollen), resulting in a highly digestible cracked pollen cell wall.
Product Highlights
A highly digestible, nutritionally dense, RAW superfood.
Ethically-harvested green tea pollen from organic or ecologically cultivated Camellia sinensis tea plantations;
Cracked cell wall for increased digestibility;
Completely RAW and minimally processed;
No fillers, no drying agents, and never irradiated;
Packaged and select manufactured in a domestic, certified organic, FDA cGMP facility;
RAW Camellia sinensis Pollen that is from RAW Forest Foods, the premier, and most trusted androgenic herb company.
Intended Uses
You will find our Divine Farmer RAW Camellia sinensis Pollen as part of the following collections in our Product Guides.
What You'll Find Inside
Each pouch contains 65 grams of our Divine Farmer RAW Camellia sinensis Pollen.
The artwork on the package, as with all our packaging, has been developed specifically for product and inspired by the ingredients it contains. The packaging is food grade/food safe, and opaque to block potentially damaging UV rays. Inside, you'll find an additional food grade pouch, to further preserve freshness and integrity, while assisting with ease of use.
Packaging is done is a domestic, certified organic FDA cGMP facility.
The Major Differences from Pine Pollen
Pine Pollen, among many other things, is an androgenic food, meaning that Pine Pollen contains the major male-sex hormones (phytoandrogen). This unique aspect of Pine Pollen is highly beneficial for those wanting to increase androgen levels and/or those experiencing low androgen levels due to Andropause or other health concerns leading to low androgen levels. However, the androgenic compounds in Pine Pollen are not for everyone, and many people prefer to use our Camellia Pollen to experience the deep nutrition of Pine Pollen without the added phytohormones.
RAW Camellia sinensis Pollen offers much of the same dense nutrient profile. Additionally, as mentioned above, Camellia offers other beneficial compounds and has benefits far different from what Pine Pollen offers (and which is why we prefer a combination of the two).
Our RAW Camellia sinensis Pollen is for everyone that actively wants to promote deep, restorative health.
Health Benefits of Green Tea
May help increase hematopoiesis (red blood cell production);
Restorative benefits to fight fatigue;
Amino acids and prebiotic fiber to increase detoxification;
Believed to aid memory and mental function (possibly through nutrition);
May benefit the immune system;
Promote healthy endocrine (hormone) system function.*
Unique Protein Analysis
Laboratory testing has identified close to 400 different proteins in fresh Camellia sinensis Pollen. The proteins found are from a unique group of proteins called "defense-related" proteins, meaning that they strengthen the body against stress (environmental, lifestyle, mental and physical), and rebuild from the damage already caused by stress.*
46 different types of proteins are found in fresh RAW Camellia Sinensis Pollen which helps increase:
Energy metabolism;
Cytoskeleton function (stronger cellular cytoplasm);
Nucleic acid metabolism;
Membrane transport;
Amino acid metabolism;
Stress response;
Protein metabolism
DNA and RNA transcription and reproduction;
Fat metabolism.*
Digestibility
Our RAW Camellia Sinensis Pollen is over 99% digestible, ensuring that you absorb and experience all the health benefits of Camellia sinensis pollen. In comparison, unprocessed bee pollen (as commonly found in health food stores) is estimated at a digestibility rate of only 5%.
Nutritional Analysis
RAW Camellia sinensis Pollen contains 5 to 8 times higher levels of amino acids than raw dairy or eggs, making this Pollen both unique and a powerhouse of amino acids. These amino acids include specific acids which promote liver cell detoxification and other anti-aging processes in the body. Like all of our RAW Pollens, RAW Camellia sinensis Pollen contains many naturally occurring vitamins, including a full spectrum of energy-promoting B vitamins (more B Vitamins than any other Pollen we know of). It is also extremely high in Nucleic Acids, which increases the body's own healthy production of new cells and incorrectly copying DNA and RNA. This promotes correct cell formation. Additionally, RAW Camellia sinensis Pollen is dense with bio-available trace minerals.
The Benefits of Green Tea
RAW Camellia sinensis Pollen is the pollen produced by the flowers of Camellia sinensis: The tea plant. Green tea, from which the leaves come from Camellia sinensis is increasingly highly regarded for its general and specific health benefits. As mentioned above, Camellia sinensis tea contains many beneficial compounds, includin g a class of polyphenols called catechins. The major catechins found in Camellia sinensis include catechin, gallocatechin, epicatechin, epigallocatechin, epicatechin gallate, and epigallocatechin gallate (also known as EGCG). Some of the benefits of green tea include:
Positive effects on the cardiovascular system, including the prevention of high blood pressure and congestive heart failure;
Increased working (fluid) memory;
Blocking plaques formation as linked to Alzheimer's disease;
Early research shows an anti-cancer effect;
Promotes healthy cell formation and DNA replication
L-theanine relaxes and improves cognition.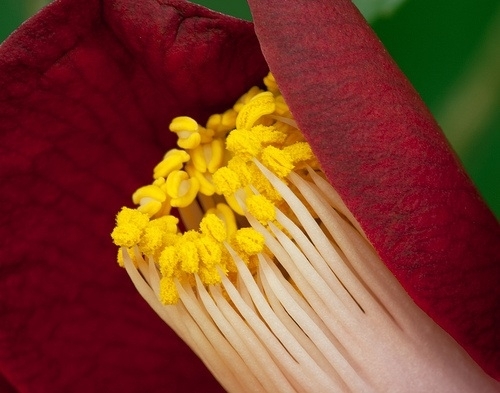 Indications
RAW Camellia sinensis Pollen is for everyone desiring optimum, restorative nutrition. It is a preferred RAW Pollen for those seeking to gain the benefits of RAW Pine Pollen but without the additional phytoandrogen present in Pine Pollen. RAW Camellia sinensis Pollen is especially cherished as a post-exercise supplement.
Botanical Illustration of Camellia sinensis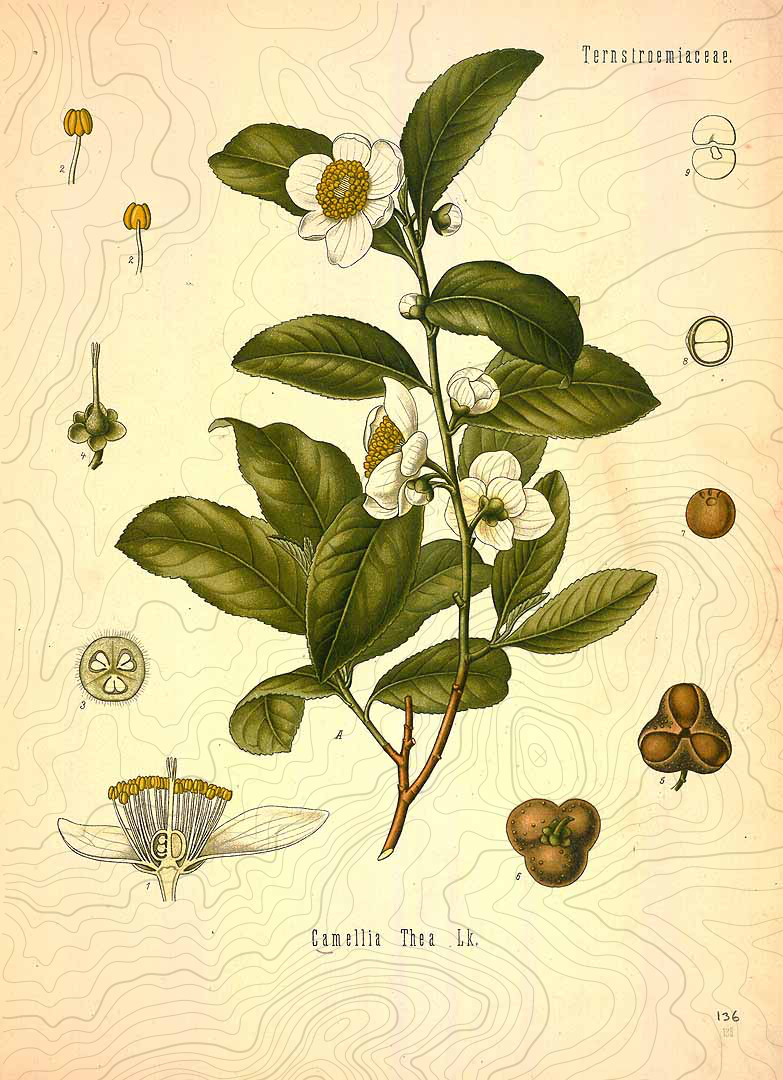 Allergies, Safety, Contraindications, and Drug Interactions
At RAW Forest Foods, we take pride in the quality of our products, and we select individual ingredients in part because we consider them to be very safe, but we cannot make any claims as to how an individual will respond to our products. Humans are complexly unique creatures.
We take herbs and herbal medicine seriously and consider them to be serious medicine on par with pharmaceutical drugs. As such, we want every customer to research products and ingredients independently, using sites like Google Scholar and PubMed.
We also encourage people to speak with their primary care practitioner before starting any new supplement regimen (purchased from our company or elsewhere) or other lifestyle change; this is particularly true for those taking any prescription drug(s), have any pre-existing medical condition, or who are pregnant, thinking about becoming pregnant, or are nursing. We do not intend for any of our products to be used by those under 18 years of age or who are pregnant or nursing. Additionally, please be aware of any allergies you may have to any ingredients in our products.
The information contained here and provided by RAW Forest Foods is for informational use only. These products have not been evaluated by the FDA. Any statements within this site or within RAW Forest Foods' site have not been evaluated by the FDA. This (or any) product is not intended to diagnose, treat, cure, or prevent any disease.
Works Referenced
RAW Camellia sinensis Green Tea Pollen
Suggested Dosage

Serving size is 2 grams, taken twice daily or as directed, preferably on an empty stomach. Once in the morning and once in the evening.
Other Ingredients: None.
In each 65 gram pouch, there are approximately 32.5 servings of RAW Camellia sinensis Green Tea Pollen.
The flavor profile of RAW Camellia sinensis Pollen is pleasant and slightly sweet.
RAW Camellia sinensis Pollen, similar to RAW Brassica campestris Pollen (but different from RAW Pine Pollen) has a tendency to clump and not dissolve well on its own in the water. Because of this, we like to mix these Pollens with liquid in a blender or to shake them vigorously in a bottle or jar.
Learn more about using all of our products here.
Ideal Storage
Store this product, and all RAW Forest Foods products, in a cool, dry place, away from sunlight and moisture. Try and use in a timely manner after opening the package.
Cycling Herbs
For those customers who prefer to rotate their pro-androgenic and tonic herbs, we suggest a schedule of five days on and two days off, or four weeks on and one week off.
Disclosures
Before starting any new medicinal herbs or nutritional supplements (from our company or otherwise), customers should consult with their qualified healthcare practitioner. This not because we question the safety of our products, but because we believe in the strength of our products and that plants have a medicinal, therapeutic potential.
This product is not for use by those under the age of 18, who are pregnant or nursing, or who are allergic or adverse to any of the ingredients contained within.
* These statements have not been evaluated by the Food and Drug Administration. This product is not intended to diagnose, treat, cure, or prevent any disease. Please view our full Terms and Conditions.
Availability:
Free domestic (US) shipping on orders of $50 or more.
Divine Farmer RAW Camellia sinensis Pollen
I've only begun using this pollen so it's too early to know how it's helping me. I have also inquired about the dosage of both this pollen and the ESF. The web site suggests one dosage while the package/bottle suggests a totally different dosage. I haven't gotten a response either...I sure would love to know whether I'm taking it correctly.
Good product. The label states 65 teaspoon servings. Actually contains only 43 measured teaspoon servings. I have made two inquiries regarding this matter and no response. They must be aware of this problem as I have read the same complaint from other people. I guess they just don't care!
Great work on the quality sublime
Biodynamic organic is always best
Love letter from our mother is what this feels like
When the body presents a mystery to solve in time , we need to reach deep for some answers to questions we may not understand , in time . This may not be the answer to my riddle but it feels deeply relevant . I love Ryans ability to bridge the modern science with the t.c.m. and the c.c.m. counter rational . Thank you .
Best broken cell wall pollen period !
I actually liked this much more than the pine pollen . Deep yin nutrition . This pollen you feel as soon as you consume it.
The cold months make it really hard for me to stay healthy, but the past two winters I used Camellia Pollen to make a tonic with based on Ryan's recommendation of combining Pine Pollen and ginger. I make a strong ginger tea by boiling sliced ginger and water with a lid on it for 10 -15 minutes, then I add a Camellia Pollen and local wild flower honey. This is my daily morning ritual throughout the winter months. Everyday I am full of energy and have yet to be sick in two winters.
Excellent drink to begin the day.... Place 1 tsp Camelia Sinensis Pollen 1tsp Raw Honey 1/2 juice of Meyer Lemon (always nice in a Crystal Cup) Stir until blended. Add 6 oz of pure water. (:(:(:
Amazing, deep, restoration
This was the first time that I had ever heard of this product (I never knew green tea pollen could be harvested!) and as soon as I did what research I could, I KNEW I had to try this! The results have been incredible; from the very first time I tried this I felt relaxed and really filled-up with a calm energy and the focus indicative of green tea (though I'm not sure if this has any l-theanine, etc.). It left me satiated, relaxed, and really primed with energy and the taste was out of this world. I've been taking many things to recharge my Kidney system and this has become a new staple in my program for sure! I combine this with the TapRoot formula and the effects are hard to beat. Overall, I would REALLY recommend you try this one and combine it with some of the other products available here, especially at this price!