Pine Pollen Tincture (2:1 Extract) - 2 Ounces
From our Mountain Harvest Pine Pollen Collection
Also Available in a 4 Ounce Bottle
A propitiatory, professional strength alcohol extract of Pine Pollen, delivering bio-available phyto-androgens, including plant-analogs of the male sex hormones:
Androstenedione;
Androsterone;
Dehydroepiandrosterone (DHEA);
Testosterone.*
As well as other beneficial chemicals and nutrients.*
Product Highlights
The strongest Pine Pollen Tincture available;
The potent 2:1 extracts delivers an equivalent of 2.4 grams of RAW Pine Pollen per serving;
From our Mountain Harvest Pine Pollen collection;
Alcohol suspended 2:1 (2 parts Pine Pollen to 1 part alcohol) extract;
Made exclusively by RAW Forest Foods in our domestic cGMP certified organic facility;
The standard 2 ounce bottle contains 48 full servings;
The large 4 ounce bottle contains 94 full servings.
RAW Forest Foods' unique 2:1 extraction process results in the strongest tincture available, made from select harvested pollen coming directly from our remote mountain sources, ensuring our customers with what we truly believe to be the highest quality tincture available anywhere.
View our Pine Pollen Tincture 2 Ounce quick facts PDF.
Choose Your Bottle Size
Our professional grade Pine Pollen tincture is available in both 2 and 4 ounce bottles.
Intended Uses
This product can be found categorized as part of the following Intended Uses collections:
What You'll Find Inside
Each bottle contains either 2 or 4 ounces of our Pine Pollen tincture. This tincture, like all of our tincture, are professionally prepared in our domestic, certified organic, FDA cGMP facility. All of our tinctures are extracted using pharmaceutical grade alcohol and are bottled in opaque glass bottles to protects the ingredients from damage and degradation by UV rays.
An Overview
As part of a full line of Pine Pollen products, our Pine Pollen Tincture is especially cherished by customers looking to gain the phyto-androgens (androstenedione, androsterone, dehydroepiandrosterone (DHEA), and testosterone) that are present in Pine Pollen. Pine Pollen Tincture is used to increase the levels of male sex hormones and help increase and balance levels of testosterone to estrogen. *
Pine Pollen is a uniquely potent, natural substance that contains a high concentration of a full spectrum of nutrients, specific anti-aging compounds, bio-available androgen hormones, raw amino acids, vitamins, and minerals, and dense antioxidants, making it the most complete of all "super-foods." The powerful mix of pro-androgenic compounds found in it are unseen anywhere else in the plant world. * All of these compounds work in unison to provide a profound benefit for a healthy and long life. *
This tincture is extracted to a 2:1 ratio, making it the strongest available. Learn more about our tincture processing here.
Increased Absorption
As an alcohol based tincture, the active compounds present are able directly cross the cell membrane and enter the blood supply immediately, unlike our Pine Pollen Powders which must be digested.
More Information
Fine specific and in-depth information about our Pine Pollen Tincture by following the links below:
Suggested Usage
Use 1/4 tsp (1.2 ml), taken as needed.
Indications
Pine Pollen Tincture deviates from the nutritional aspect of RAW Pine Pollen and focuses on the phyto-chemicals present within it, specifically the phyto-androgens (plant hormone analogs) androstenedione, androsterone, dehydroepiandrosterone (DHEA), and testosterone. These androgens may help raise levels of free testosterone in the body.
For customers seeking the full range of health benefits from Pine Pollen, while also raising testosterone levels. we recommend a combination of our RAW Pine Pollen with Pine Pollen Tincture.
This is a professional grade tincture, and is intended for therapeutic use—not abuse.
Pine Pollen Tincture Suggested Usage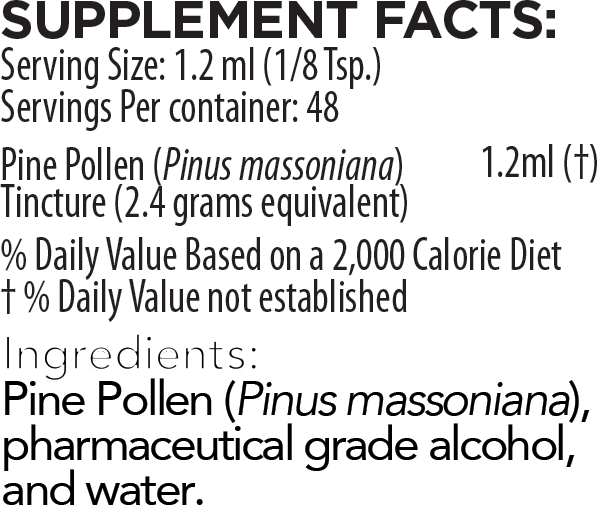 Suggested use is 1/4 tsp (1.2 ml), taken twice daily or as otherwise directed.
Other Ingredients: Pharmaceutical grade (USP) alcohol and water.
In each 2 ounce bottle, there are approximately 48 servings of Pine Pollen Tincture.
Extracted at a 2:1 ratio, each dropperful of tincture contains an equivalent of 2.4 grams of fresh Pine Pollen per serving.
At RAW Forest Foods, we like to take our tinctures diluted in 2 - 4 ounces of warm water, taken on an empty stomach.
These products are vegan/vegetarian.
Learn more about using all of our products here.
Ideal Storage
Store this product, and all RAW Forest Foods products, in a cool, dry place, away from sunlight and moisture. Try and use in a timely manner after opening the package.
Cycling Herbs
For those customers who prefer to rotate their pro-androgenic and tonic herbs, we suggest a schedule of five days on and two days off, or four weeks on and one week off.
Our Pledge
We have worked hard to offer you this clinical grade Pine Pollen Tincture as part of our full line of Mountain Harvest Pine Pollen. It is a full 2:1 extract, made professionally in a certified organic, FDA cGMP facility right here in the US, ensuring you an unrivaled (in quality or potency) Pine Pollen Tincture.
Disclosures
Before starting any new medicinal herbs or nutritional supplements (from our company or otherwise), customers should consult with their qualified health care practitioner. This not because we question the safety of our products, but because we believe in the strength of our products and that plants have a medicinal, therapeutic potential.
This product is not for use by those under the age of 18, who are pregnant or nursing, or who are allergic or adverse to any of the ingredients contained within.
* These statements have not been evaluated by the Food and Drug Administration. This product is not intended to diagnose, treat, cure, or prevent any disease. Please view our full Terms and Conditions.
Availability:
Free domestic (US) shipping on orders of $50 or more.
I have been taking the pine pollen tincture for a little over a month, and it is HIGHLY effective. I am an athlete, and have taken every supplement available over the years, and nothing even comes close to pine pollen. The testosterone boost is very obvious as well as increased energy. I take a high dose of the tincture, and stack it with Raw Forest Foods pine pollen powder. Excellent products!
This is my third time buying the product, and I will continue to buy the pine pollen tincture.
This product delivers results! I originally sought out pine pollen for the claimed mood / dopamine production benefits. After a month of consistent use, I am blown away by the uplifting effect it has had. Additionally, the male enhancing benefits of increased testosterone have been noted. Together they are a very positive combination of results. Very happy! :-)
Excellent product! There's alot of information on the bottle! Next time I will buy a bigger bottle.
Yeah so anyways, its a pretty nice product and works for my needs pretty nicely. Its definitely not much of an aphrodisiac but does have a great energizing and relaxing effect to it and am double happy because of the raw DHT/test that it is said to hold. I would have liked more free stuff next time with my order but the wooden spoon that came with mine was pretty tight.
So far so good but dosage inconsistencies
So far so good. Was confused in the beginning as the serving label indicates 1/8 tsp which is not 1.2 ml - it is half that amount. The dosage on the label should be 1/4 tsp - which is closer to 1.2 ml. The instructions within the website description for the drops is correct as it indicates 1/4 tsp by again, doesn't match the bottle. Other than the dosage confusion, product appears to be giving me more energy - especially when working out but also has had an effect on labido. I need more time to provide a more indepth evaluation.
I find this Pine Pollen Extract to be potent. There are some nuances in using it. It seems to be burned up by stress, muscular activity and sex. Without these it seems to build up and create an aggressive irritability. I guess too much testosterone can do that. I am an old guy so no fights. Sometimes I can take it everyday, several times, sometimes once a week. It is easy to regulate with some self awareness. I recommend this but use with awareness. It is potent and profound.
Best PP tincture available
I have tried various pine pollen powders and tinctures and I do believe that this is the best quality and strongest. Plus I like that it is made in the USA. I cycle all of my testosterone supplements as I find this system suits my metabolism best. I use the PP tincture once or twice a week and each time I can be assured of a raging hard-on in the morning following a dropper full (under the tongue for 90 seconds) in the evening before. It also gives me that extra energy needed for longer work outs.
I am a woman and I'm not using this product for sports or gaining muscle specifically, I'm using it for excess estrogen detoxification, mood enhancement and hormonal balance. I've been using it for a little over a week and I already notice a difference, it's pretty amazing. I have a noticeable increase in energy and mood already and am looking forward to continued use! I've found myself having continuous energy all day long. Thanks Raw Forest Foods!
pine pollen tinc is a lifesaver
found this to be the most wonderful product really like this company and suspect the more i purchase from them the more ill come to like them the quality has been supurb and the pine pollen tinc is no exception. had an illness affecting my small parts and this alleviated the discomfort i felt in moments i was searching for a healthy way to support heathly hormone levels i tried tribulus at first and it didnt agree with me but this pine pollen stuff is the way to go only wish i had been taking it sooner thanks raw forest foods