Navigating the Improved Intended Uses Page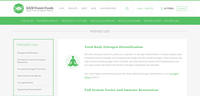 In an increasing effort to help you find the products that most interest you we have expanded the Intended Uses page at our website. Previously--and unfortunately--this page did not serve our customers as well as we would have liked. But with the launch of our new website we have giving this page a serious reworking.
When you visit the Intended Uses page you'll now find six highly easy to navigate categories for helping select which products suit you best:
Estrogen Detoxification
Full System Tonics and Immune Restoration
Increasing Androgen Production
Select Products for Women
True Aphrodisiacs
Supporting Prostate Health
We have gone through and hand-selected from all of our products those that are best fitting for each category. With that said, it is important to highlight that just because a product is listed in one category does not mean that it is not equally and fully applicable in another category. For example, or Estrogen Detox is listed under Estrogen Detoxification, Increasing Androgen Productions, Select Products for Women, and Supporting Prostate Health because it fits each category perfectly and will equally help those people meet their individual needs.
Furthermore, it is also important to note that just because a product is not listed under a certain category does not mean that it does not have benefits similar to other products within that category, it is just that we wanted to offer a navigable selection not burdened but too much choice.
If you have any suggestions of products to add or categories to add please let us know. Our goal is to serve you better so your input is of the highest value.