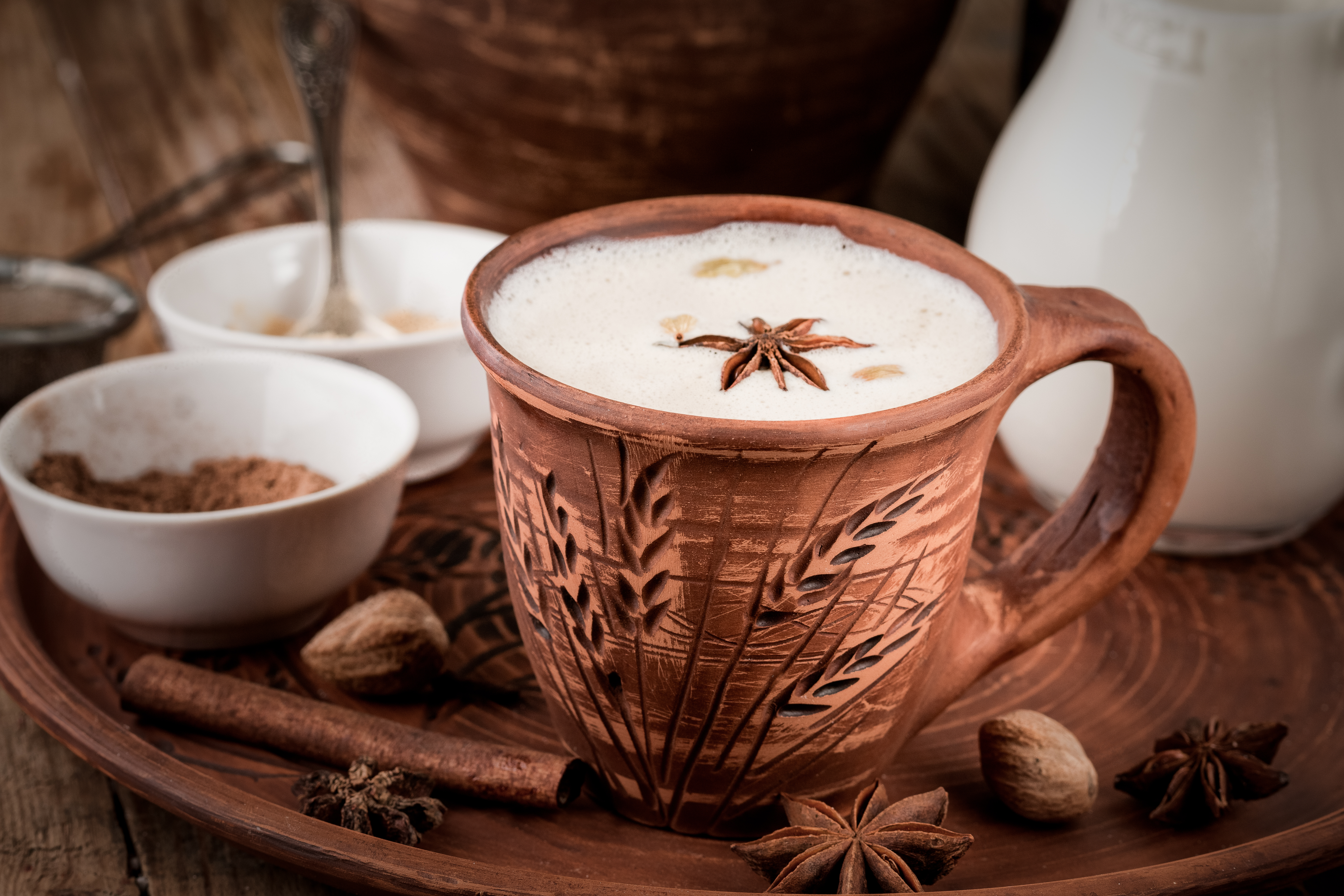 Spiced Chai with Cupid's Elixir
I love tea, especially a big mug full of spicy hot chai tea during the dead-of-winter that is the middle of February.
The middle of February is also a great time to create a batch of the spicy warmth goodness of chai tea, to melt the snow and ignite the heart for Valentine's Day—whether it is to shared with a lover, friends, or simply by yourself with a good book or movie. Chai tea is easy to make and can be accomplished with many of the spices you already have in the cupboard, or are at least available in bulk at the local health food store.
Below I am sharing my personal favorite recipe for making a big pot of chai (or making the mix to share with others). Additionally, I am including the additions to transform this mix into a cupid's elixir, full of invigorating aphrodisiac herbs.
As a side note, chai tea is actually a redundant term; the word chai translates to "tea" in Urdu and Nepalese (and probably other regional languages). More accurate would be to say masala chai, which translates to "mixed spiced tea" in the aforementioned languages. In those places where masala chai is a traditional drink, there is no set recipe; each maker has their unique concoction, which may change from day to day depending on what is available.
Masala Chai (AKA Spiced Chai Tea)
For the spice mix:
1 full star anise;
1/2 vanilla bean (opened lengthwise);
2 inch piece fresh ginger (chopped finely or grated);
3 whole cardamom pods;
10-12 whole cloves;
6 whole allspice seeds;
2 teaspoons chipped cinnamon bark or 2 cinnamon sticks;
3 peppercorns (white peppercorns are preferred but not a necessity).
For the tea:
This can be made with any unflavored black ( Camellia sinensis) tea you have on hand, and for a decafinated version you can substitute rooibos tea for the black tea. The best chai is made using assam tea (in my opinion), as it does not over-steep and become bitter like many of the English or Irish breakfast blends.
OR
2-3 heaping tablespoons loose leaf black tea.
For the liquids:
1 cup water;
4 cups of your preferred unsweetened unflavored milk/milk substitute.
For the sugar:
Adding a sweetener, well, it makes everything sweeter. Sweeten to taste, usually between a scant teaspoon to one tablespoon per cup of liquid. A molasses rich dark brown sugar is especially delicious in this recipe and balances the savory herbs and spices quite well, but you can use whichever sweetener you fancy: Honey, agave, white sugar, coconut…it doesn't matter at all.
To make the tea:
Add all the herbs and spices (but not the tea itself) to a small pot or saucepan, add the water, and bring to a simmer with a tight fitting lid placed on top. Simmer for 5-10 minutes, adding water as necessary to keep it at approximately 1 cup of liquid. Be sure to keep the tight fitting lid on the whole time to preserve the aromatic compounds from the spices.
After simmering the herbs, reduce the heat to barely a simmer and add the tea, milk, and sugar. Wait 3 minutes (or more if you like a strong brew) for the tea to steep while still over the low heat. Strain with a tea strainer or some other apparatus (I like to use a small sauce pan with a strainer built into the lid) as you poor it into your mugs. The leftover tea and spices from this batch of tea can be reused to make another pot of tea.
Optional Cupid's Elixir Additions
Any--or all--of these herbs can be added to the spice mix above to transform this truly delicious recipe into a lovers' nectar. Remember, the name of the game is fun, so experiment and don't take it too seriously!
1 tablespoon kava kava;
1 tablespoon damiana;
1 tablespoon fresh ginger (in addition to the ginger above);
1 teaspoon horny goat weed;
1 teaspoon yohimbe;
1 teaspoon muira puama;
1 teaspoon ginkgo;
1 teaspoon milky oat seed pods.
This blend is intended to enliven and invigorate both men and women. For those with high blood pressure, exclude the Yohimbe. To use this blend, add it to the spices as they simmer on low heat before you add the tea, milk, and sugar. To help balance the bitter in some of these herbs, you may like to add a little extra sweetener. The Kava Kava in this blend should not be combined with alcohol or with driving--so keep that in mind.