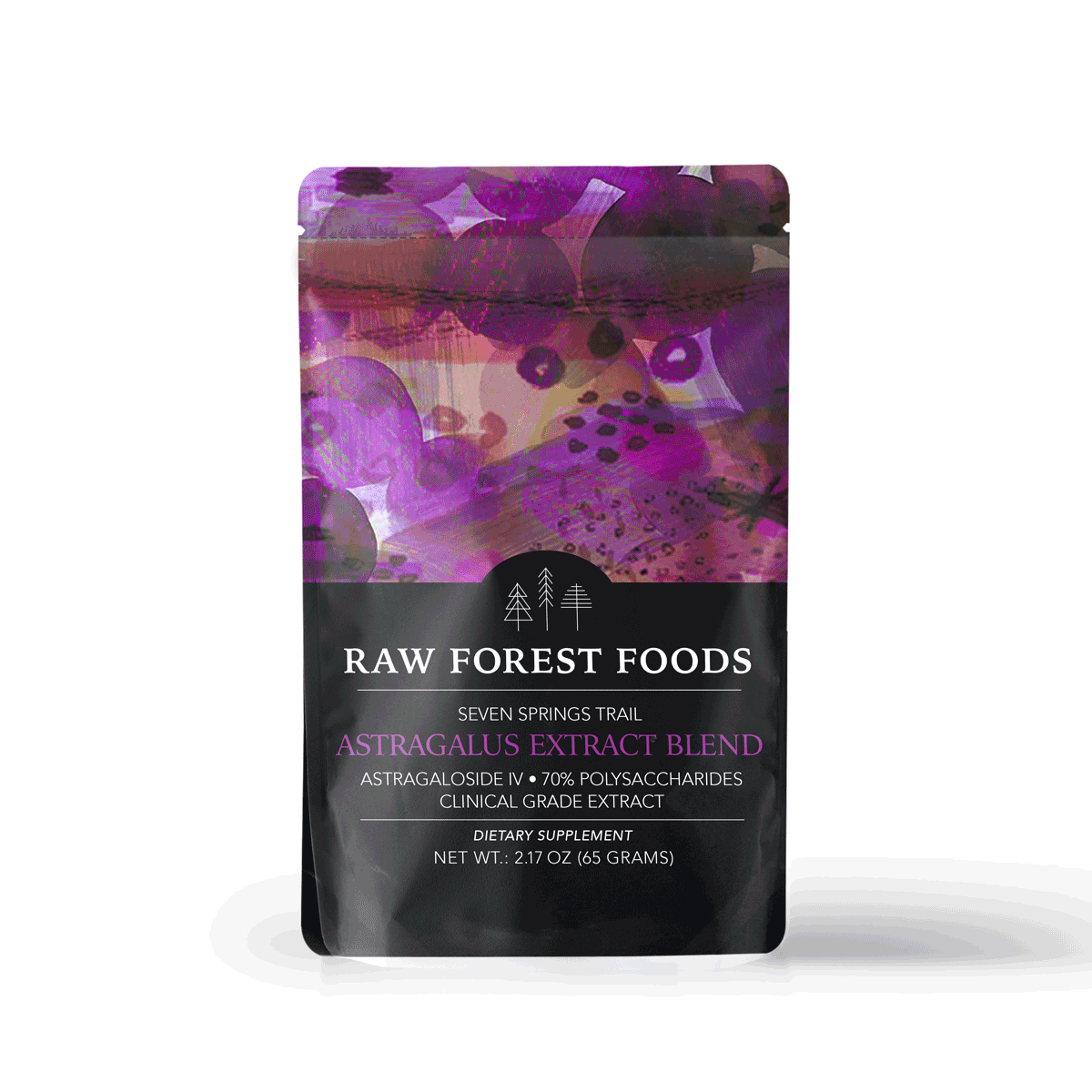 We did not set out to create this product, but after searching for a quality Astragalus Extract for our own use and coming up empty handed, it was obvious that to meet our requirements we were going to have to make it ourselves.
After creating what we were looking for (a clean and organic product, a potent broad spectrum extract, isolated Astragaloside IV), it still took some time experimenting with the ratios of extracts and ensuring that each serving would have enough Astragaloside IV to make it relevant (here we are targeting Astragaloside IV because of the telomere and telomerase research done on it).
Once we decided on a final blend, we then used the product ourselves for about a year before deciding to share it with our customers and we are beyond excited to now offer it in our store.
Seven Springs Trail Key Highlights
Made with certified organic Astragalus membranaceus Root Extract;
Contains standardized 70% polysaccharide Astragalus Extract and isolated Astragaloside IV (5%) extract at a 2:1 ratio;
Sourced directly from the growers and processors;
Packaged in our domestic, certified organic FDA cGMP facility;
A truly unique and unparalleled Astragalus extract.
Astragalus membranaceus Root Key Properties
Considered a Class One tonic herb;
Adaptogenic and may reduce cortisol (stress) hormone levels;
Traditionally used as a treatment for Qi Deficiency syndrome;

Known to help benefit the immune system;
Researched and used to promote longevity;
Astragaloside IV may increase levels of the enzyme telomerase (as shown In Vitro) and thus contribute to healthy aging and longevity.*
Additionally, Western research has indicated that Astragalus has the following possible therapeutic actions:
Anti-inflammatory;
Immunostimulant;
Anti-oxidative;
Anti-cancer;
Anti-diabetic;
Cardioprotective;
Hepatoprotective;
Antiviral activities.*
The Name
The name Seven Springs Trail Astragalus Extract Blend was chosen as both a reference and a reverence to the long history of the indigenous people of the Central California Coast, and the vital sustenance fresh water brings to all—humans, animals, plants, and beyond. More specifically, seven springs is the actual location of seven fresh, artisanal water springs in the Santa Cruz Mountain of California.
Learning More and Buying the Extract
You can read more about this product at the main Seven Springs Trail Astragalus Extract Blend product page.
* These statements have not been evaluated by the Food and Drug Administration. This product is not intended to diagnose, treat, cure, or prevent any disease. Please view our full Terms and Conditions.