What is Pine Pollen?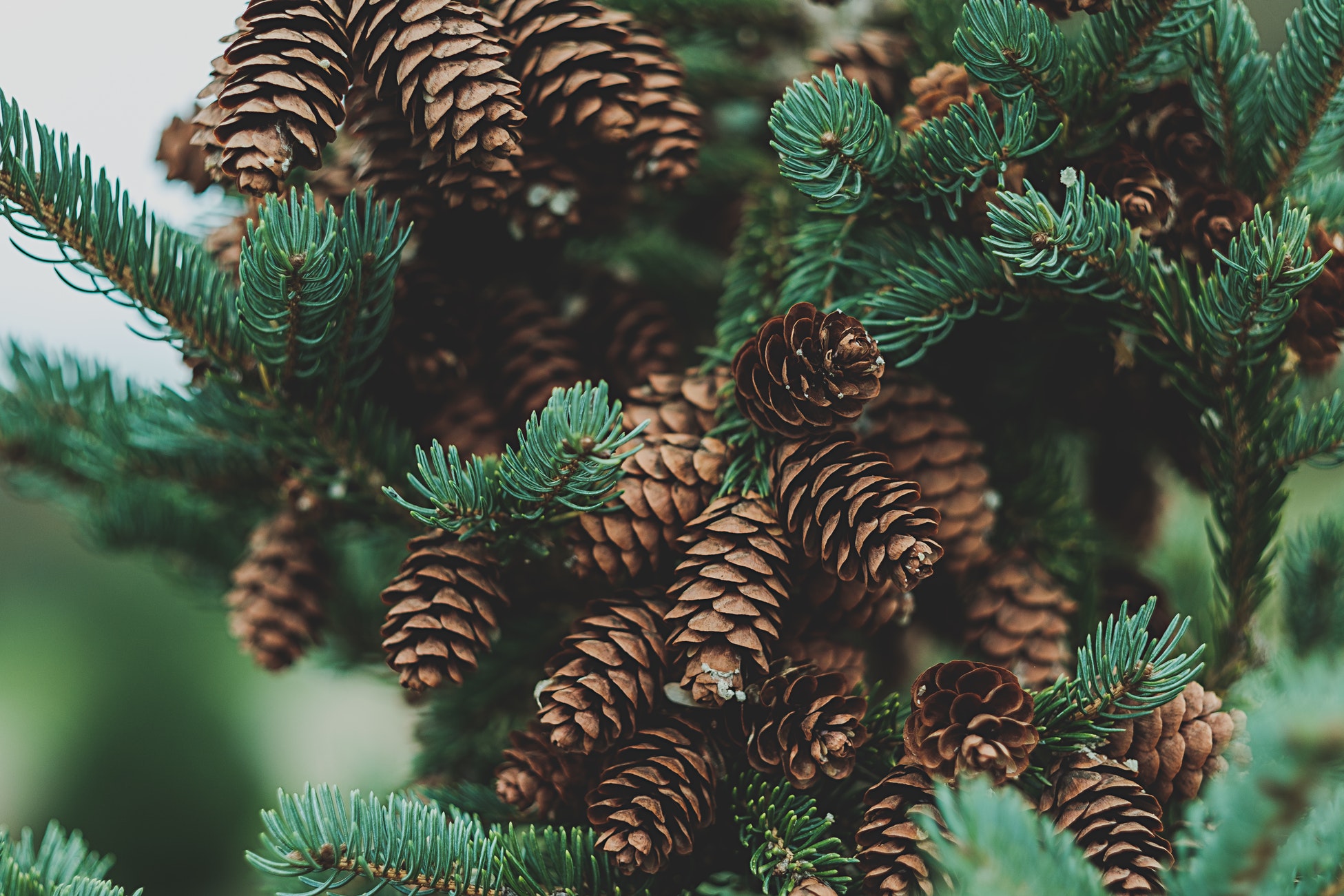 Pine Pollen is a type of nutritional supplement that is extracted from pine trees. Pollens—including Pine Pollen, Green Tea/ Camellia sinensis, and Brassica Pollen—are increasingly used as dietary supplements and as superfoods.
Different pollens have been used historically in classical Chinese medicine, other indigenous medicines, and in Traditional Chinese Medicine (TCM), due to their wide range of benefits (including powerful anti-inflammatory effects). Throughout modern history, Pine Pollen has been widely used in many Asian countries.
Pine Pollen is a powerful supplement that has been recommended for daily consumption to help improve overall health and wellness. In Chinese medicine, Pine Pollen is considered to have numerous health benefits, which may include: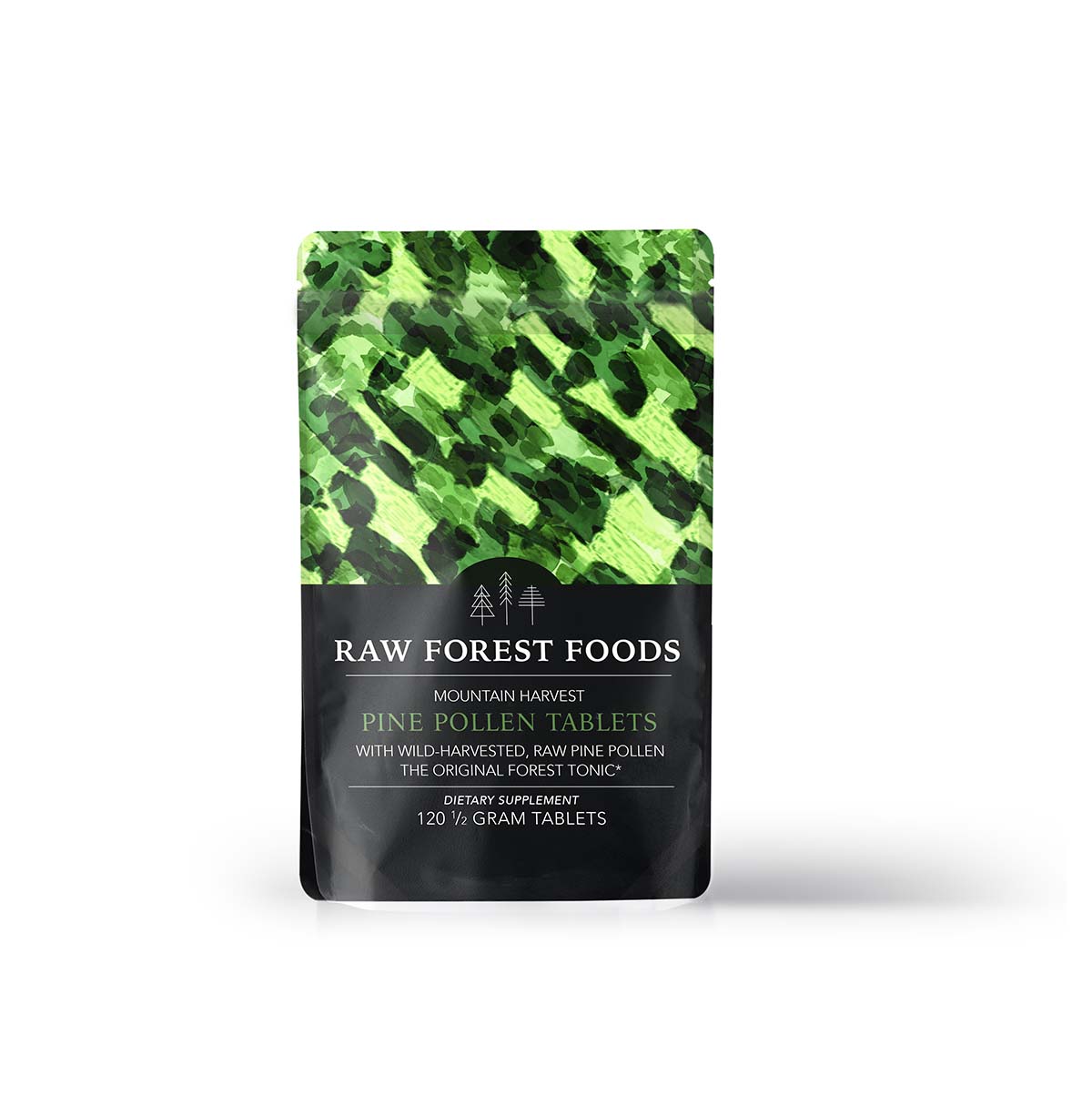 Health Benefits
Improves the quality of our skin which contributes to the elasticity and youthfulness of our skin;
Relieves fatigue, rheumatic pain, and regeneration of our overall health;
Strengthens the heart and immune system to fight diseases;
Regulates the digestive system and detoxifies the body to promote weight management;
Improves our brain function and motor skills;
Builds endurance and cardiovascular health;
Provides relief for prostate problems and improves the condition;
Manages the endocrine and reproductive system;
Lowers cholesterol levels;
Can potentially increase male fertility;
Assists in the restoration of testosterone or androgen levels.*
Chinese Medicine Preparation and Application
During the blooming of pine trees in the spring, Pine Pollen is the dried pollen collected from the fringes of the pine trees. The Pine Pollen catkins are dried to eliminate the impurities. The fine powder has a light yellow color which feels light and smooth when touched.
It is a mild and sweet medicine used for the treatment of the Liver and Spleen (as organs within the Chinese Medicine system). The medicine also eliminates hemostasis and help improves the condition of eczema, skin erosion, and traumatic bleeding, just to name a few of its uses.*
In traditional Chinese medicine, it is greatly used to assist in the treatment and improvement of various illness and conditions such as prostate disorders, male fertility, male testosterone, sexual dysfunction, muscle bone and density, weight management, immune system, heart disease, and acne problems.*
Historical Applications (During the Golden Days)
In ancient applications, mixing 3 g. with hot water can cure chronic constipation. It is also used for anti-aging as well as treatment for senile diseases, erectile dysfunction among many others. Another method used is dissolving the pine pollen in ethanol concentration which can help eliminate dizziness, swelling, numbness, and certain skin diseases.*
To cure headache, diarrhea, and throat problems, a combination of 30 g. of Pine Pollen,15 g. of dried tangerine peel, 15 g. of C optis chinensis root, and 6 g. of licorice root, may help improve the condition. Mix and stir fry these all together and crush until it becomes powder. It can be taken twice a day, one in the morning and the other at night.
Other usages are for treatment of diaper dermatitis where you slather the Pine Pollen directly on the infected skin. For infant eczema, mix the Pine Pollen with calamine and egg oil and use it on the affected area at least 3 times daily.* It can also be used as a facial treatment when used with white honey and P oria cocos.*
Modern Treatment and Application
Since it includes 14 vitamins, 24 minerals, 18 active enzymes, plant hormones, and numerous compounds, research has discovered various health benefits. It supports enhanced immunity system function, anti-aging benefits, digestive system benefits, increases the cardiovascular strength, lowers blood fat, and protects the liver.*
Japanese Medicine Preparation and Application
Similar to Chinese medicine, Pine Pollen has been widely used in Japan over a long period of time. Japan was significantly influenced by the Chinese culture and medicine where Pine Pollen was used for various treatments for both the royalty and common people. Scientists have implemented a comprehensive research on the application of Pine Pollen to treat urological illness and treatment for prostate disease.
Another study takes into consideration the anti-aging effect in promoting hair regrowth. It is also used in lightening scars and other skin pigmentations. During the early years, Japanese use it not only for medical purposes but as food as well. It is used as an ingredient in noodles as well as other Japanese dishes.
Korean Medicine Preparation and Application
Chinese medicine has also influenced Korean culture. Koreans has a high regard of the Pine Pollen as food. In today's modern culture, Pine Pollen Tea is widely popular among Koreans. Various beauty products have also been invented using Pine Pollen as their ingredient.
Medical Research into Pine Pollen
In modern medicine, there are still some benefits of Pine Pollen that are still undiscovered and understudied. However, with the increase in the popularity of the usage and benefits of Pine Pollen in the US, researchers are continuing to discover more and more benefits. Further studies are required to understand and prove the efficiency of the intake of Pine Pollen.
Pine Pollen is most likely to contain allergens. People who are allergic to Pine Pollen will probably allergic to the supplements as well. Any form of consumption should be taken with precaution.
Nutritional Facts
A pollen contains a number of nutrients that contribute to the development of a new plant. Pine Pollen contains essential building blocks to help grow a pine tree. Scientists have discovered around 200 amino acids, 30 plus micro and macro minerals, 15 vitamins, nearly 100 enzymes, and nutritional active compounds.
Compared to the usual food that we eat, Pine Pollen is still a standout when it comes to the nutritional benefits. It contains 7 to 10 times more protein than eggs, has beta-carotine that is 20 to 30 times higher than carrots, includes 20 times more iron than spinach. Although it is often compared to the nutritional facts of bee pollen, it is still 3 times richer.
Other Potential Benefits
Possible increase in the libido;
Promotes anti-fatigue;
Has anti-inflammatory effects especially for chronic pain such as arthritis;
Improves cognitive functions and skills;
Detoxifies the body from waste to improve the gallbladder and liver conditions;
Includes antioxidants to fight diseases;
Builds muscle mass.*
Pine Pollen Capsules and Tablets
RAW Forest Foods manufacturers our Pine Pollen capsules and tablets in a certified organic, FDA cGMP facility, right here in the US. These products are created using vegetarian capsules with absolutely no preservatives or fillers.
Pine Pollen is used to energize the endocrine system thanks to its nutrients, phytosterols, enzymes, coenzymes, and adaptogenic compounds
Our Pine Pollen and Lion's Mane tablets are produced to improve the brain and nervous system, due to Lion's Mane's effect against oxidative stress and promotion of neurons.* When these ingredients are mixed together, they become powerful supplements to regenerate and renew our mind, body, and health.*
Lion's Mane Tablets
Lion's Mane originates from China, Japan, South America, and Europe. It is a fungus that can be found residing in damaged hardwood trees, most commonly in oak trees. It feeds on decomposing elements and living tissues of a host.
In Chinese medicine, Lion's Mane is used as a traditional medicine and food supplement. It is particularly known as a herb for restoration which makes it widely used. It provides benefits for the Heart, Liver, Lung, Kidney, and Spleen (again, as organs within the Chinese Medicine system).
In Western studies, scientists are more focused on the neurological effects of Lion's Mane. Research shows that it stimulates the nerve cell growth which can be potentially used in the treatment of Alzheimer's disease and other neurodegenerative diseases. It also improves cognitive abilities and reduces signs of anxiety and depression. In some research, it is found to stimulate neuron myelination which can possibly contribute to the treatment of Parkinson's disease.
About the Product
Mountain Harvest Pine Pollen is wild harvested from natural sources and is extracted from strong pine trees during the peak of its potency within a 3 day period for the entire year. It is extensively researched and studied for its medicinal benefits.
This supplement is intended for the restoration of immune system and the support of prostate health. Lion's Mane is a safe dietary supplement. However, it is always best to take precautions especially if you encounter allergic symptoms and reactions.
The recommended intake of Pine Pollen and Lion's Mane Extract tablets is 3 tablets up to 2 times a day. You can take it with water during your meals. Each bottle contains 120 tables which are developed with 420 mg. of RAW Pine Pollen and 180 mg. of Lion's Mane Extract.
Pine Pollen Tablets
To produce these tablets, the Mountain Harvest Pine Pollen is mixed with the right amount of sugar to produce the tablet. In its raw form, RAW Pine Pollen contains essential nutrients, vitamins, minerals, and compounds which are processed to create a powder form. It is lightly processed to increase the potency up to 50 times stronger than the average Pine Pollen.
These tablets contain phyto-androgen hormones, raw amino acids, and anti-aging compounds to help rejuvenate testosterone to a healthy level.
About the Product
Mountain Forest Pine Pollen is exclusively harvested from natural sources extracted from only the finest pine trees. These tablets are intended for immune restoration, an increase in androgen production, and improvement of prostate health. The Pine Pollen is harvested from select pine trees to ensure that the product is clean, strong, and produced in its highest quality.
It is strongly suggested that the daily intake should be up to 3 times. Since this product has energizing effects, taking it late during the day may lead to a sleepless night. The ingredients used are purely vegetarian with no preservatives.
The tablets are chewable which makes it very easy to consume. There are 120 tablets in one package where each tablet weighs 600 mg. It is manufactured with a resealable package to keep it fresh, dry, and protected from damage.
Pine Pollen Powdered 10:1 Extract Capsules and Powder
The Mountain Harvest RAW Pine Pollen is extracted with hot water to achieve a 10:1 concentration. It takes roughly over 1 lb. of RAW Pine Pollen to produce 65 g. of extract. The overall result produces a highly concentrated and strong Pine Pollen extract.
Pine Pollen is continuously used for almost a thousand years due to its multiple health benefits. It is packed with nutrients which makes it a powerful and effective tonic herb.
About the Product
The transformation process of the Pine Pollen into a concentrated extract guarantees that only high quality pollens are used. This is developed using hot water for extraction. There are no harsh chemicals used and residues left during the entire production process. The only ingredients used are Pine Pollen and water.
Pine Pollen Powdered 10:1 Extract Capsules are created from vegetarian tablets where each bottle contains 120 capsules while the Mountain Harvest Pine Pollen Extract is available in a 65 g. pouch. The suggested use is to take 2 capsules of 680 mg. as needed while the powdered extract should be taken with approximately 1 teaspoon or 1.5 g. as needed. RAW Forest Foods is proudly the first company to offer this extract to the western market.
RAW Forest Foods
RAW Forest Foods is a company that produces, manufactures, and develops Pine Pollen products. The ingredients used in their products are carefully chosen and most are produced from certified organic and wild harvested elements. All products and herbs are processed locally in a FDA cGMP facility.
After seeing the effects of Pine Pollen in the treatment of Lyme disease, RAW Forest Foods was formed with the objective of helping improve the overall health and well-being of people as well as aid in the treatment of certain illness and diseases. The products have made a positive impact on many people's lives.
The Facilities
The raw ingredients and herbs are sourced all over the world. Most of the ingredients are certified organic and ecologically wild harvested. The herbal products including powder, capsules, tablets, and tinctures are manufactured and processed in a special facility.
It has a climate control to manage the temperature and humidity of the environment. The facility is enclosed by certified organic crops and fields which house the medicinal herbs.
Where to Buy
Although Pin Pollen is widely used in Asia, it is still a rare commodity in the Western region and is available only in specific specialty stores across the US. However, you can easily purchase it online or you can buy Pine Pollen in the RAW Forest Foods website.