AM Energy Booster &
Pre-Workout Formula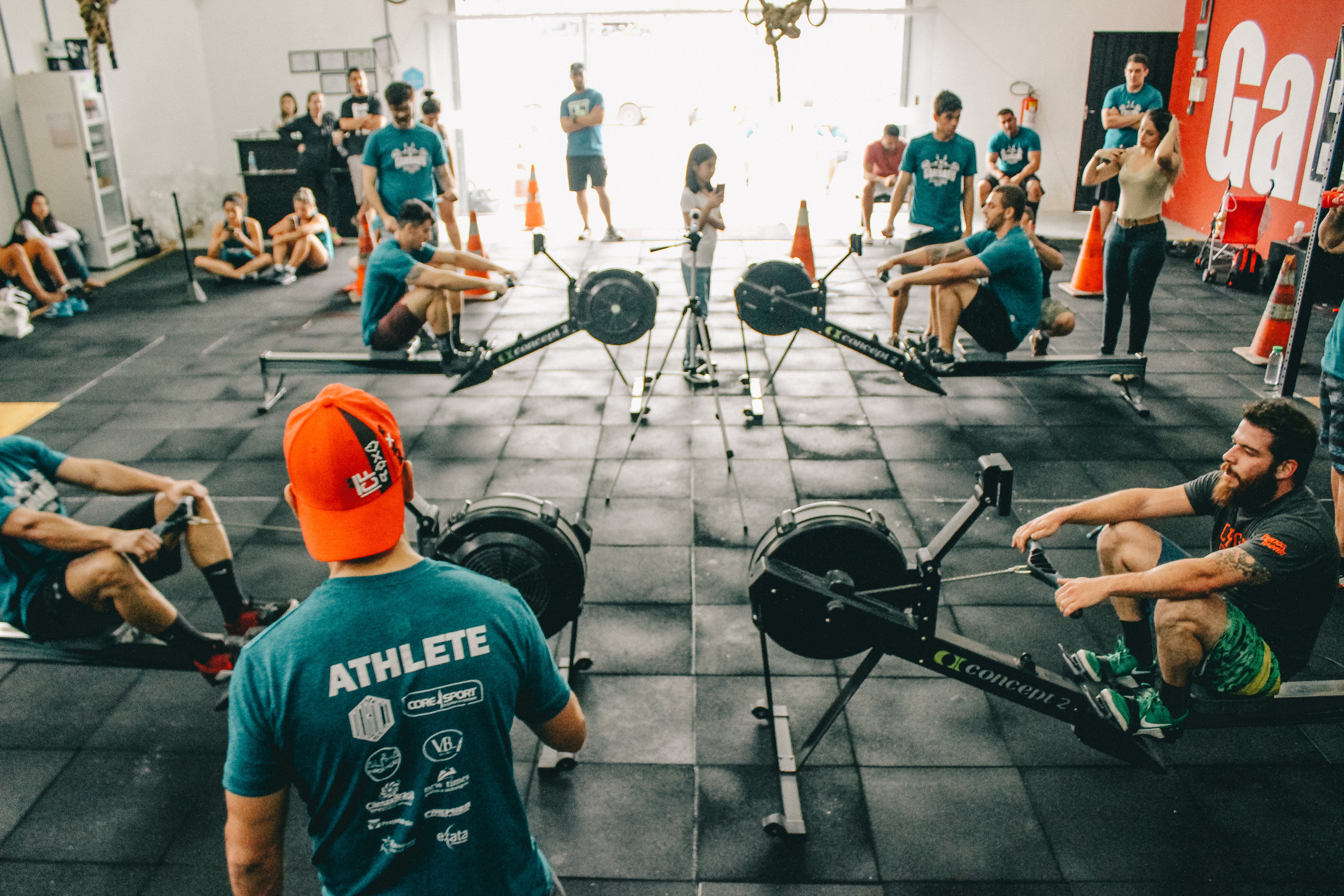 Developed Exclusively and in Collaboration with
Pine Pollen Superfoods
This has been a long time coming and I am so very excited to be able to announce the release of our first collaboration with Michael over at Pine Pollen Superfoods. With a ton of experience in the fitness industry—and a ton of experience with Pine Pollen—Michael wanted something unique for himself and his customers that supplied the nutrients, the foundation, and the energy needed to perform at the peak. Together we developed Wake Up: AM Energy Booster & Pre-Workout Formula.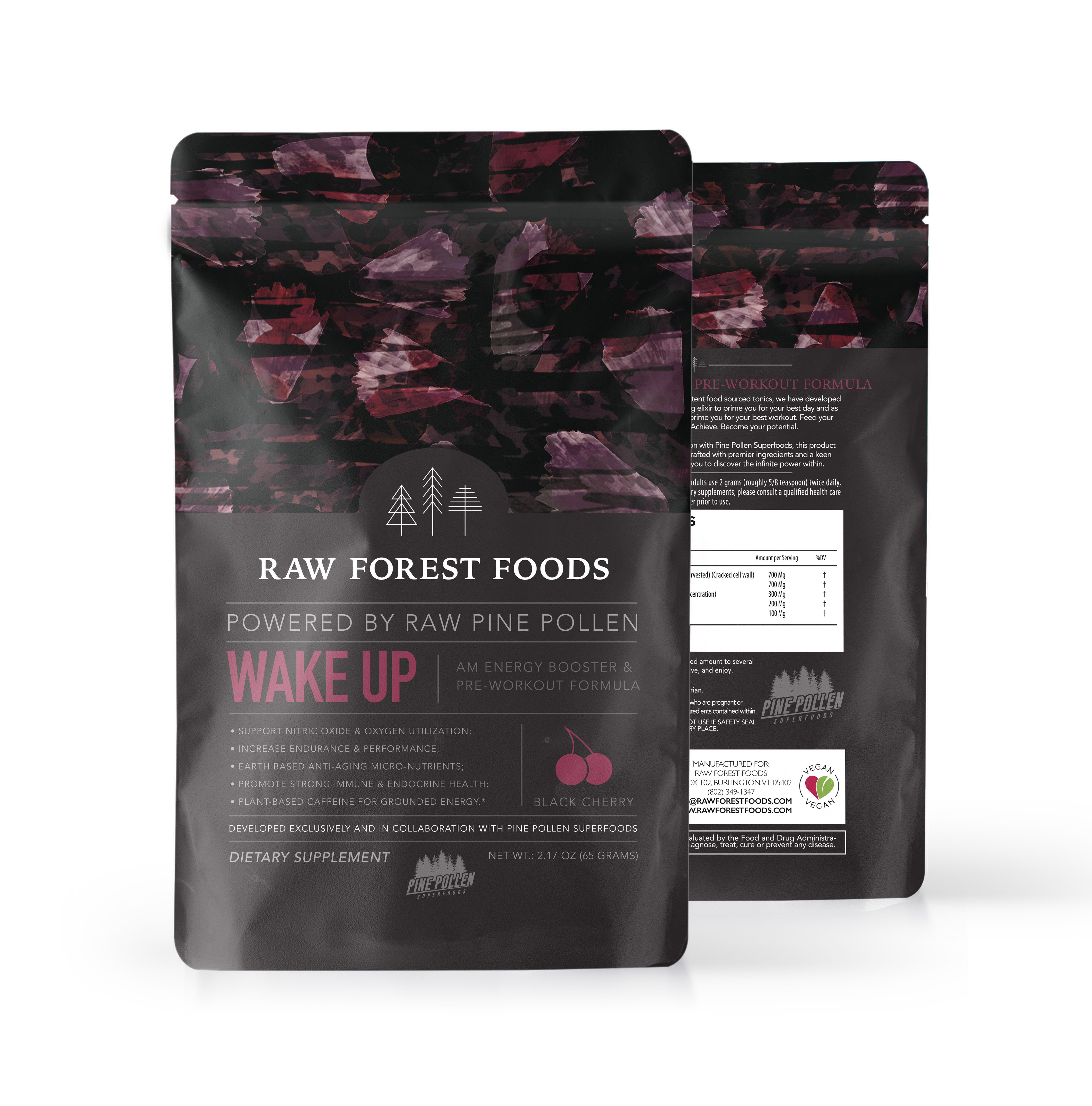 With a blend of adaptogenic herbs and potent food sourced tonics, we have developed our AM Wake Up as an intelligent morning elixir to prime you for your best day and as an earth-based pre-workout formula to prime you for your best workout. Feed your body; feed your mind. Excel. Achieve. This is the first Pine Pollen based pre-workout and morning wake-up formula. Like RAW Forest Foods, it's one of a kind. And we're proud of that.
Developed exclusively and in collaboration with Pine Pollen Superfoods, this product has been expertly created and artfully crafted with premier ingredients and a keen eye on sport performance. We invite you to discover the infinite power within. You won't be able to purchase this in our store—you'll have to head over to Pine Pollen Superfoods for that.
Key Facts:
Support nitric oxide & oxygen utilization;
Increase endurance & Performance;
Earth based anti-aging micro-nutrients;
Promote strong immune & endocrine health;
Plant-based caffeine for grounded energy.*
Contains:
Each pouch contains 65 grams of our AM Energy Booster & Pre-Workout Formula.
Pine (Pinus massoniana) Pollen Powder (RAW) (Wild-harvested) (Cracked cell wall)
Matcha (Camellia sinensis) Powder
Cordyceps (Cordyceps sinensis) Extract Powder (10:1 concentration)
Black Cherry (Prunus serotina) Powder
Beet (Beta vulgaris) Powder (Organic)
WAKE-UP: AM Energy Booster & Pre-Workout Formula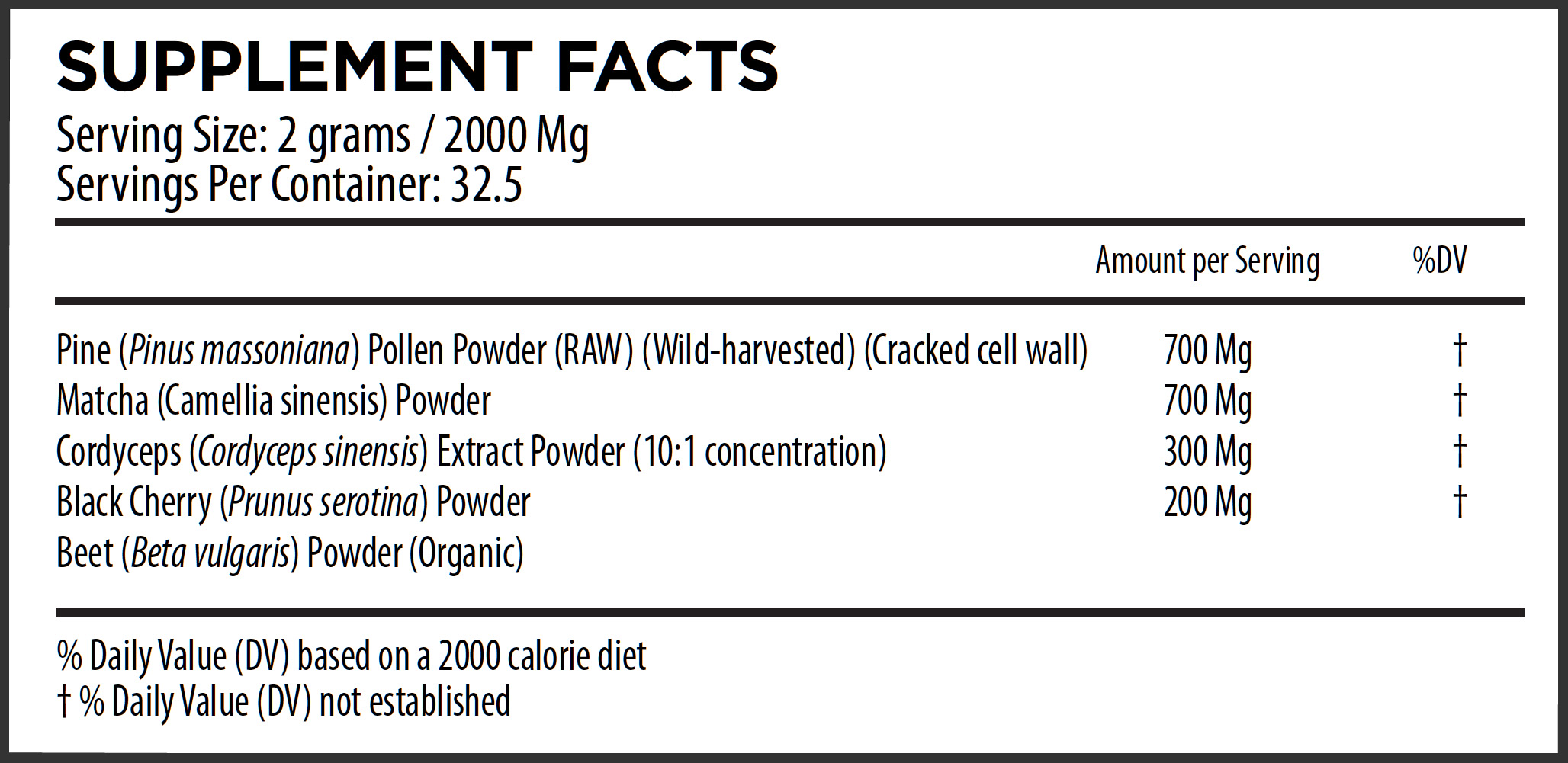 Supplement Facts and Suggested Dosage
Wake Up is ready to use: Simply add the desired amount to several ounces (or more) of cool or warm water, dissolve, and enjoy.
No fillers. No drying agents. Never Irradiated.
This product is GMO free and is vegan/vegetarian.
Ideal Storage
Store this product, and all RAW Forest Foods products, in a cool, dry place, away from sunlight and moisture. Try and use in a timely manner after opening the package.
Cycling Herbs
For those customers who prefer to rotate their pro-androgenic and tonic herbs, we suggest a schedule of five days on and two days off, or four weeks on and one week off.
Disclosures
Before starting any new medicinal herbs or nutritional supplements (from our company or otherwise), customers should consult with their qualified health care practitioner. This not because we question the safety of our products, but because we believe in the strength of our products and that plants have a medicinal, therapeutic potential.
This product is not for use by those under the age of 18, who are pregnant or nursing, or who are allergic or adverse to any of the ingredients contained within.
* These statements have not been evaluated by the Food and Drug Administration. This product is not intended to diagnose, treat, cure, or prevent any disease. Please view our full Terms and Conditions.