The Hallmark of Quality
Widely used to increase testosterone levels, Pine Pollen is a potent natural remedy which houses a myriad of health and wellness advantages. Loaded with vitamins, minerals, amino acids, antioxidants and many more beneficial components, Pine Pollen unleashes its true potential in our convenient Royal Pine Pollen Tincture.
>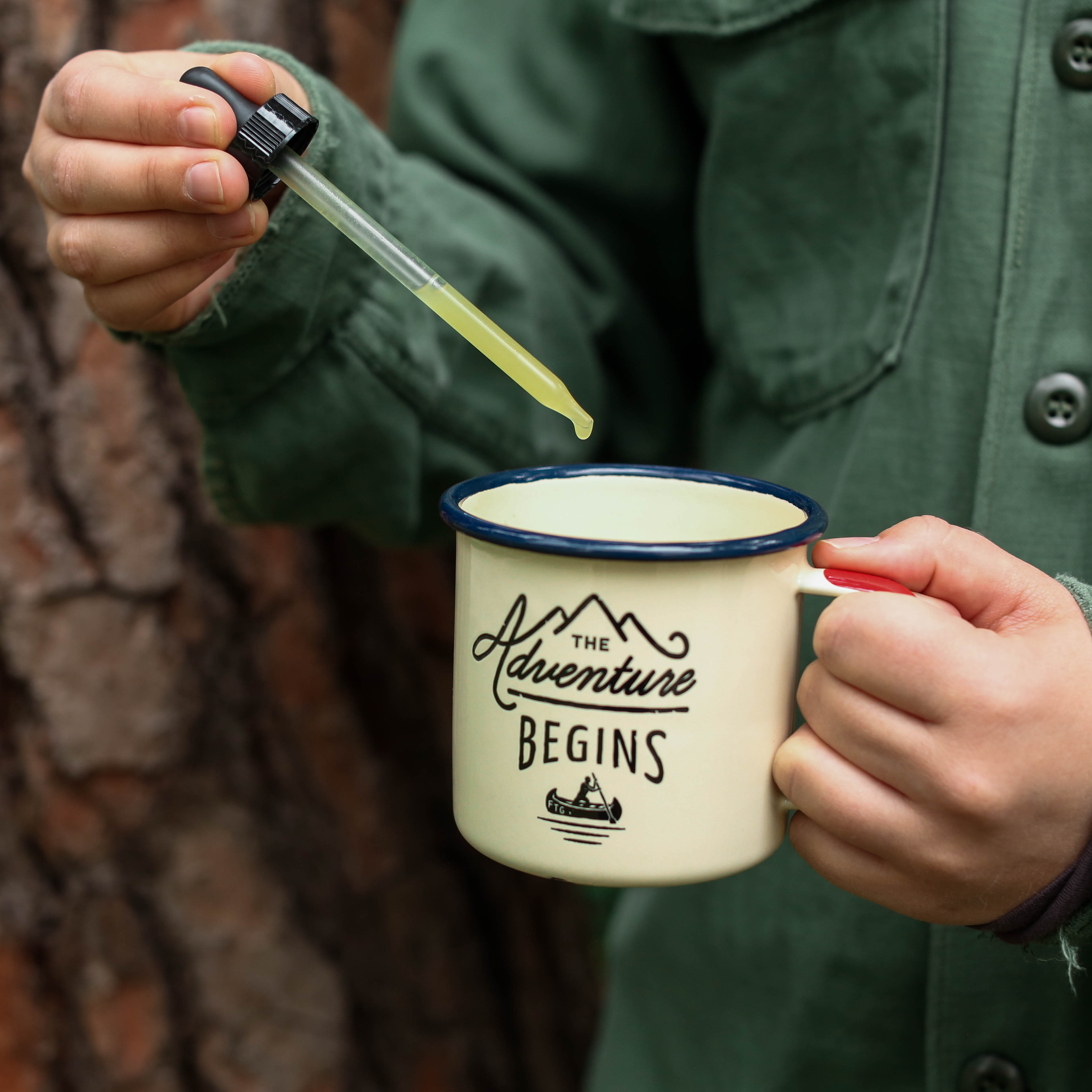 Solely extracted from our Mountain Harvest RAW Pine Pollen, our Royal Pine Pollen Tincture is a pure dual extract made by combining the primary ingredient with ethanol and water. Providing powerful adaptogenic, tonic and pro-androgenic effects, this tincture is perfect for anyone who desires a true, genuine Pine Pollen Tincture of the highest quality and integrity.
Have questions about Pine Pollen that aren't answered in the post below? Read our Pine Pollen FAQ or ask your question in our online contact form.
What is Royal Pine Pollen Tincture?
As part of our full line of Pine Pollen products, our Royal Pine Pollen Tincture is especially cherished by customers looking to gain the phyto-androgens (androstenedione, androsterone, dehydroepiandrosterone (DHEA), and testosterone) present in Pine Pollen. It's used to boost levels of the male sex hormones and help increase and balance levels of testosterone to estrogen.*
Pine Pollen is a uniquely potent, natural substance containing high concentrations of a full spectrum of nutrients, specific anti-aging compounds, bio-available androgen hormones, raw amino acids, vitamins, minerals and dense antioxidants. This makes it the most complete of all superfoods.
Its powerful mix of pro-androgenic compounds is unseen anywhere else in the plant world.* And all these compounds work in unison to provide a profound benefit for a healthy and long life.*
To transform our wild harvested RAW Pine Pollen into Royal Pine Pollen Tincture, we combine Pine Pollen with pharmaceutical grade alcohol and water. Extracted at a 1:2 ratio, each dropperful of tincture contains the equivalent of 1g of fresh, raw herbs, making it the strongest available in the world.
For more information, read Pine Pollen Tincture: The Better, Pro-Androgenic Herb.
Where does Royal Pine Pollen Tincture come from?
We make our Royal Pine Pollen Tincture from our single source, select Mountain Harvest RAW Pine Pollen. As the original company offering RAW Pine Pollen, we've been able to build long, trusting relationships with our wild-harvesters, ensuring only the best Pine Pollen for our customers. We've traveled to the site, we've been with the harvesters, we seen the pristine forests with our own eyes. That's one of the RAW Forest Foods differences. We choose these pristine, secluded forests because they provide the highest quality and highest integrity Pine Pollen available.
Many tinctures are referred to as "dual extracts" because they're extracted in a combination of water and ethanol. But at RAW Forest Foods, we're proud to offer a genuine dual extract tincture.
Using water, ethanol and heat, we make a decoction of the menstruum — the solution of herbs, alcohol and water. This is a vital difference which produces a cleaner, more potent tincture than through any other method. It's a more involved and more expensive extraction process, but we think our customers are worth it. In fact, we know our customers are worth it.
Learn more about our Royal Pine Pollen Tincture and how we make it.
What makes Royal Pine Pollen Tincture so special?
Our Royal Pine Pollen Tincture deviates from the nutritional aspect of RAW Pine Pollen and focuses on the phytochemicals present within it. Specifically, the phytoandrogens (plant hormone analogs) androstenedione, androsterone, dehydroepiandrosterone (DHEA), and testosterone. These androgens may help raise levels of free testosterone within the body.
This is a professional grade tincture and is intended for therapeutic use — not abuse. As an alcohol-based tincture, the active compounds present are able to directly cross the cell membrane and enter the blood supply immediately, unlike our Pine Pollen Powders which must first be digested.
What does Royal Pine Pollen Tincture do?
In nature, Pine Pollen has 2 primary uses. Firstly, it's cultivated by pine catkins so they can germinate and reproduce. Secondly, Pine Pollen covers the dormant forest floor each spring. By doing so, its many growth factors and nutrients encourage the forest plants to thrive. This encourages the lush, green growth which transforms the barren winter into the productive spring and summer.
Pine Pollen supports a similar transformation within the human body. More than 200 beneficial elements have been identified within Pine Pollen. These include many living enzymes and enzymatic cofactors, vitamins, minerals, anti-inflammatory agents, antioxidants, adaptogens, pro-androgenic and phytosterols (plant hormones similar to testosterone) and positive growth factors. All of these encourage good health and healthy aging.
RAW Forest Foods and Royal Pine Pollen Tincture
RAW Forest Foods is proud to be the first company to bring Pine Pollen to the US. And we're even more proud to be the leading authority on pro-androgenic and tonic herbs.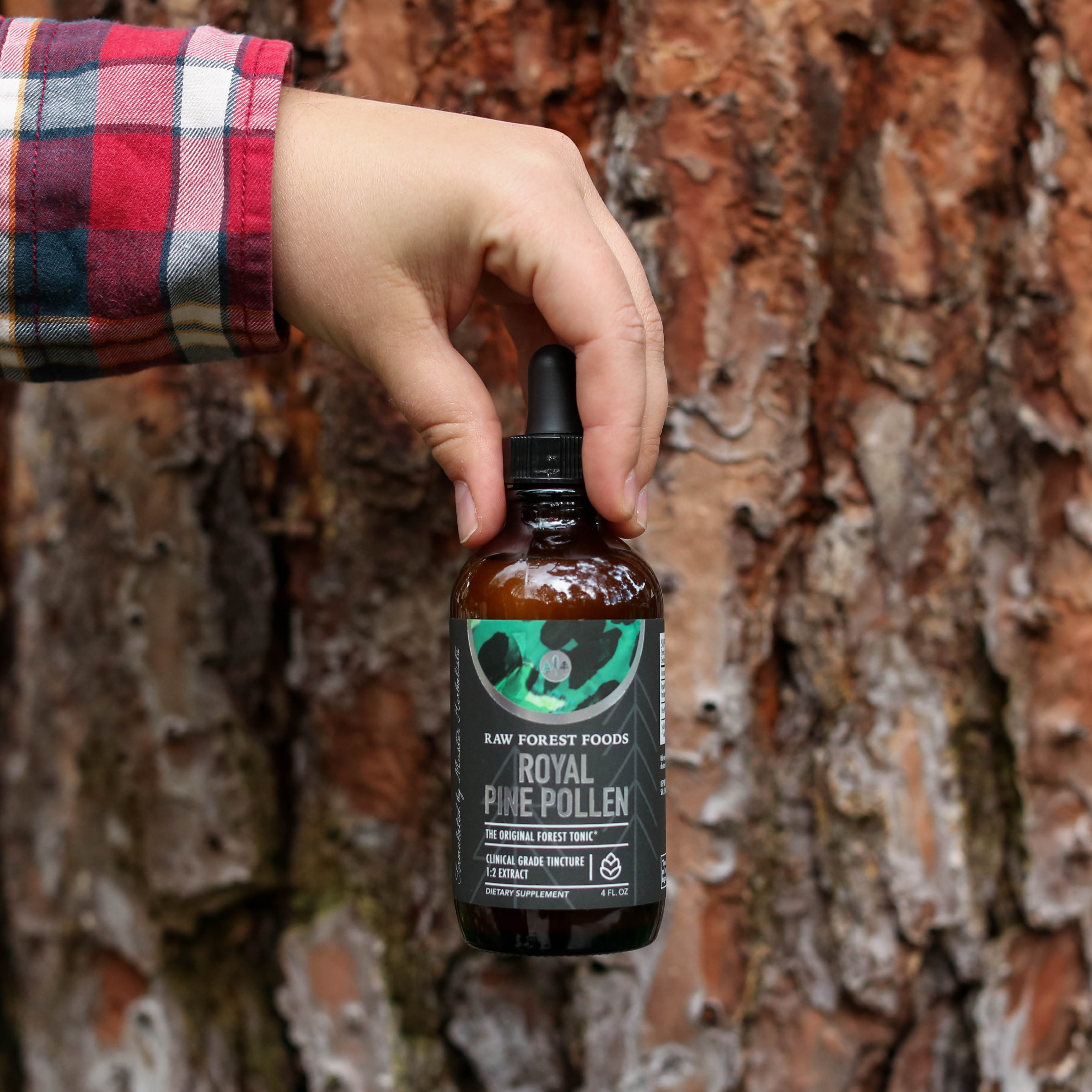 We've worked incredibly hard to offer you a full potency extract Royal Pine Pollen Tincture as part of our line of Mountain Harvest Pine Pollen. It's a full 1:2 true dual extract, made professionally using fresh, RAW Pine Pollen within a domestic, FDA cGMP facility. We only use pharmaceutical grade alcohol and opaque glass bottles to protect the ingredients from damage and degradation by UV rays. All this guarantees you receive an unrivaled (in quality and potency) tincture.
Royal Pine Pollen Tincture benefits
Pine Pollen benefits may include:
Improving cardiovascular health and lowering bad cholesterol;
Boosting the immune system;
Anti-inflammatory effects;
Anti-fatigue components;
Improving heart, blood, liver and brain conditions;
Promoting cognitive functions;
Encouraging healthy skin and improving its elasticity;
Detoxifying the body and liver;
Restoring healthy androgen levels;
Increasing libido and male fertility;
Promoting prostate health;
Balancing estrogenic and androgenic hormones;
Aiding weight management and obesity by building muscle mass;
Improving endocrine function;
Reducing sensitivity to stress;
Boosting mental function;
Cell regeneration.*
Interested in learning more about the many health benefits of Pine Pollen? Check out this post on all its advantages.
How to take Royal Pine Pollen Tincture
We recommend you take:
2ml (approximately 2 droppers full) of Royal Pine Pollen Tincture twice daily on an empty stomach. At RAW Forest Foods, we're fans of diluting our tincture in 2-4 ounces of warm water. But you can also squirt the dropper directly under your tongue.
The above recommendation is simply the way we prefer to take Royal Pine Pollen tincture at RAW Forest Foods. If our method doesn't suit your lifestyle, please take your Royal Pine Pollen Tincture however best suits you. Sticking to a regular routine which guarantees consistent use is always best. After all, you won't see any results from this product if you don't use it regularly.
For customers seeking the full range of health benefits from Pine Pollen, while also raising testosterone levels, we recommend a combination of our RAW Pine Pollen with Pine Pollen Tincture.
Cycling Pine Pollen
For our customers who prefer to rotate their pro-androgenic and tonic herbs, we suggest a schedule of five days on and two days off. Alternatively, you can also follow a schedule of four weeks on and one week off. To learn more about cycling herbs, read Stacking and Cycling Pine Pollen to Improve Testosterone.
How to store Royal Pine Pollen Tincture
You should store Royal Pine Pollen tincture (and all RAW Forest Foods products) away from direct sunlight and moisture, in a cool, dry place. Aim to use all our products in a timely manner after opening.
With that said, tinctures are incredibly shelf stable and will last a very, very long time.
Royal Pine Pollen Tincture reviews
"[The] most potent and effective pine pollen on the market." — Tom
"I first ordered [RAW Forest Foods] pine pollen tincture several years ago and had *amazing results. My well being, stability, and body structure improved within days." — Brendan
"Amazing product! Felt the effects almost immediately! More energy[,] more motivated[,] and better workouts." — Keith
"I have been taking the pine pollen tincture for a little over a month, and it is HIGHLY effective. I am an athlete, and have taken every supplement available over the years, and nothing even comes close to pine pollen. The testosterone boost is very obvious as well as increased energy. I take a high dose of the tincture, and stack it with Raw Forest Foods pine pollen powder. Excellent products!" — Jeremy
"This product delivers results! I originally sought out pine pollen for the claimed mood / dopamine production benefits. After a month of consistent use, I am blown away by the uplifting effect it has had. Additionally, the male enhancing benefits of increased testosterone have been noted. Together they are a very positive combination of results. Very happy! :-)" — Dave
Get started with Royal Pine Pollen Tincture
Ready to discover the health benefits of our Royal Pine Pollen Tincture? Here are some of our best-selling products our customers love most.
Royal Pine Pollen Tincture disclosures
Before you start taking any new nutritional supplements or medicinal herbs (from RAW Forest Foods or otherwise), you should always consult a qualified healthcare practitioner. We don't recommend you do this because we question the safety of our products. We recommend you do this because we truly believe in the powerful strength of our products and we understand that plants have a potent medicinal, therapeutic potential.
Our Royal Pine Pollen tincture aren't intended to be used by anyone under 18 years old, anyone who is pregnant or nursing, or anyone who has an allergy or history of adverse reactions to any of the ingredients contained within this product.
* These statements haven't been evaluated by the Food and Drug Administration. None of the RAW Forest Food product range is designed to cure, treat, diagnose or prevent any disease. For more information, read our full Terms and Conditions.